Temporary Speed Limit on part of C2003 Bromsgrove Road, 25th June for 5 days
June 25, 2019

-

June 29, 2019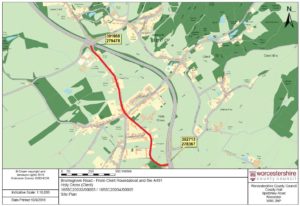 Worcestershire County Council has provided this notice.

Reason for restriction: Installation of cats eyes.

Restriction: a 10 mph speed limit.

1. The effect of this Notice is that no vehicle shall proceed along that part of C2003 Bromsgrove Road at a speed exceeding 10 mph from its junction with C2003 Broome Lane Roundabout to its junction with A491 Stourbridge Road.
2. No speed limit imposed by this Notice applies to vehicles falling within regulation 3(4) of the Road Traffic Exemptions (Special Forces) (Variation and Amendment) Regulations 2011 when used in accordance with Regulation 3(5) of those regulations.
3. This provision shall continue in force for a maximum of 5 days. However it is anticipated that it will remain force for 2 days commencing on 25 June 2019.
Nothing in this Notice shall prevent at any time access for pedestrians to any premises situated on or adjacent to the highway, or to any other premises accessible for pedestrians from and only from the highway.
Details
Start:

June 25, 2019

End:

June 29, 2019

Event Category: